Golden Arrow Resources Corp.
TSX-V: GRG | OTC: GARWF
Trading at Cash Value & Exploring for Gold in 3 Countries With High Upside Potential
---

Golden Arrow Resources Corporation (TSX-V: GRG)(OTC: GARWF) is currently trading below $0.25 — and well below its potential. The company has a long list of attractive projects in the pipeline in Argentina, Chile, and Paraguay.
Last year, Golden Arrow sold its 25% interest in Puna Operations Inc to SSR Mining for $3 million in cash and 1,245,580 million shares of SSR, valued then at approximately $25.9 million.
This is a major feat for a junior mining company, and speaks to management's ability to "get it done".
Today, Golden Arrow is sitting on ~$28 million in cash and remaining SSR shares while its market cap is only ~$23 million, meaning it is trading at a discount to cash. That alone makes it worth a look.
But Golden Arrow isn't just sitting on its cash.
It's also exploring and developing properties in multiple jurisdictions, for which it's getting no value in the market.
Golden Arrow has historically operated in Argentina. That's where it made its big score with SSR. But it has also added projects in Chile and Paraguay.
Paraguay — The Last Unexplored Frontier in South America
Paraguay is rarely mentioned in terms of countries blessed with valuable natural resources.
The fact is Paraguay is a hidden treasure that remains one of the least-explored regions in South America!
The geological potential of Paraguay is huge! That is why Golden Arrow Resources is working with local experts.
Golden Arrow already has one exciting project in Paraguay: The Tierra Dorada Gold project.
The company has already seen initial success from its trenching program in the Tierra Dorada Gold project, with samples returning 89.5 grams per tonne gold & 61 grams per tonne silver over 0.93 meters and 143.4 grams per tonne gold and 95.8 grams per tonne silver over 0.58 meters in
trench T-1.

This is extremely high grade gold. And it turned up in multiple vien showings from surface and trench sampling.
A 500-meter program kicked off in late August and is estimated to take approximately one month to complete. So there is potentially very exciting news ahead.
We talk about in my interview with VP of Exploration and Development Brian McEwen, below. But first, let's take a look at the storied history of Golden Arrow and its crucial relationship with the Grosso Group.
It's Time for Some History!
In 1992, Argentina opened its doors for foreign investors. This was a big deal for the global mining industry.
Argentina shares a border of 5150 kilometers — the world's third longest border — with Chile. Chile has had a strong mining culture for a long time.
Joseph Grosso — The Grosso Group's Founder & President — capitalized on this opportunity. He gained control of a huge area that was situated on the best geological trends in Argentina. The projects that Joseph Grosso began in Argentina proved successful.
Golden Arrow's initial growth and current financial position were financed by the Grosso Group's initial projects in Argentina, and Grosso Group manages the company to this day.
Grosso Group is one of the pioneers of mining exploration in Argentina. During its entire history, the company has never faced any resistance from the local communities and government.
This is because the Grosso Group's operation policy gives due importance to environmental compliance and community relations.
This strategy has led to success with locals as Golden Arrow discovered and exited multiple projects.

Proved its Mettle Thrice!
Golden Arrow has proved that its 5 Step Development Process works.
In mining, it's rare to be a part of one project that goes into production. But Golden Arrow has been a part of three!
The Chinchillas silver project was put into production by SSR Mining.
Its Gualcamayo gold project was put into production by Yamana.
And its Navidad silver project is currently owned by Pan American Silver.
Now, Golden Arrow is taking this proven strategy and expanding it outside Argentina to Chile and Paraguay.
Here with me is VP of Exploration and Development Brian McEwen to discuss the current projects and plans.

Resource Stock Digest: Joining us today is the VP of Exploration & Development at Golden Arrow Resources (TSX-V: GRG)(OTC: GARWF), Mr. Brian McEwen. Brian, how are you?
Brian McEwen: I'm doing well, Gerardo. How are you?

RSD: I am well. It's been a bit since you and I chatted. We talked about it off-air briefly. Before we get into how exciting the gold price near $2,000 is and silver near $30 is, I have to ask you, you're trading at a discount to cash and equivalents. Am I reading that wrong? Is that accurate?
BM: No, that's accurate. It is accurate. Should be a great buying opportunity.

RSD: Again, just to be clear, you have 148 million fully diluted shares. I believe approximately 28 to 29 million of those are at the $0.37 and $0.59 price level, but even taking those into account, your shares are currently trading at around the $0.20 level. Can you provide everybody just a quick snapshot of the cash and equivalents that you have in the treasury?
Then let's talk about the projects, because you have a team that's been able to monetize projects in the past. You guys are experts in the regions that you're working in – and we'll get into some of the projects that you've picked up and some of the newsflow that people can expect. But walk me through the cash and equivalents part of it because I think, again, in this market it's an absolute bargain.
BM: Things worked out very well for us when we sold our percentage ownership in Puna Operations. The remaining 25% we had in our project with Chinchillas and Pirquitas Puna Operations... we sold that. We had a million shares of SSR Mining, and then there was some cash that came with it. That was done at I believe around $20 a share. So that ended up being a $20 million cash equivalent. Then the SSR Mining shares went on a run, and they were up to trading now in the area of $30.
So that deal in itself, our cash equivalent went from $20 million to $30 million. We made $10 million in the midst of the pandemic, which was very nice to see. We sold some of those shares. Now I think we're down around 700,000 shares, and we have cash in the bank from some of the shares that we've sold previously.
Right now we're sitting in a very enviable position of a junior company to have roughly $28 million in cash and cash equivalents. It gives us the ability to do advanced projects, but we're also out there looking for something else to invest in.

RSD: Let's talk about the regions that you're operating in. You mentioned the cash position. You mentioned the fact that you have some very exciting projects and are on the M&A hunt, obviously with some leverage, given the strong, strong treasury.
Walk us through Paraguay, Argentina and Chile. How are things in each of those countries as it relates to the projects that you've been able to bring to the company?
BM: Our home is in Argentina and it will remain in Argentina. But a couple of years ago we were feeling with the election that was coming up and we always felt we were getting this Argentine discount. Not everybody's keen on Argentina. We still have some good projects, but we thought we should throw the net a little further out. So we started looking at projects initially in Chile. Then this project came to us from Paraguay. So we managed to pick up these projects in Chile and Paraguay that are a little earlier stage than what we were in fact looking for, but they've got great potential.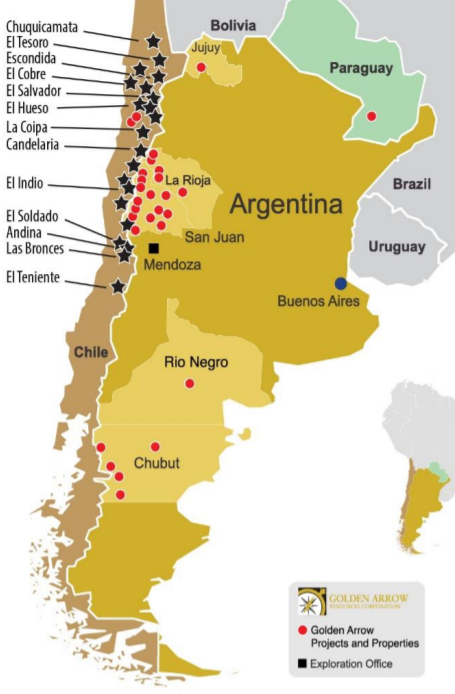 In Argentina, we've kind of zoned in on an area further to the south near to Santa Cruz, where we have the Cerro Vanguardia area, and using that as a model, we picked up this big area within Rio Negro, where we've had multi-ounce samples. We've got visible gold showing up. We've got a trenching program and geophysics plan there, and then hope to be drilling at the end of the year when the whole COVID thing kind of slowed us down. We can't travel down in that part of the country now, so we're limited to doing some exploratory work in one of the other provinces, but those are really good projects in Argentina.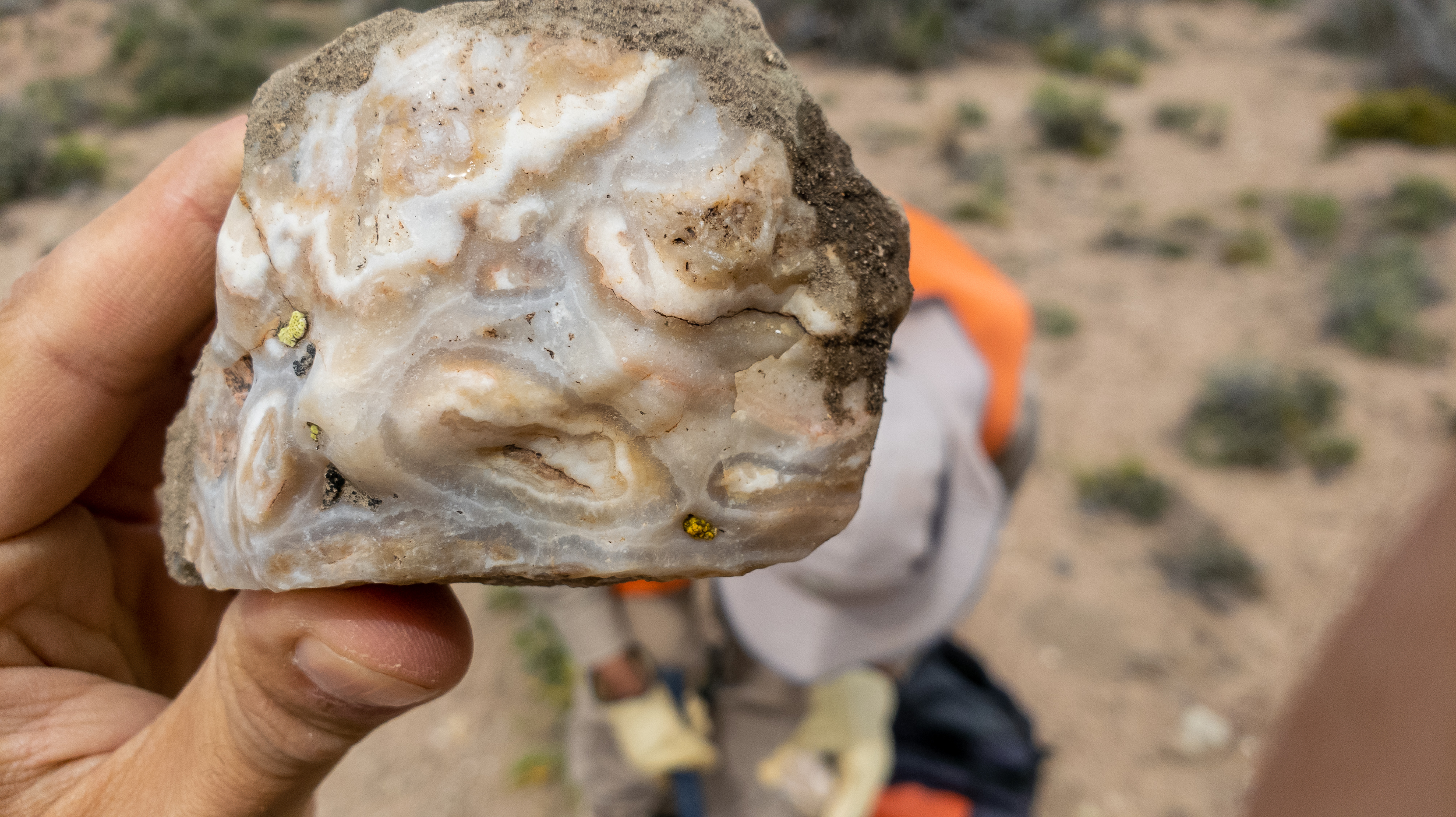 In Chile, we're faced with a similar kind of story there where we can't travel to Chile, but we've got Chilean contractors working on a copper project that we picked up while we were looking at some other advanced projects in the region called Rosales. We've got three or four zones there now, all plus-5% copper, and it's at the surface. It's a project that once we can get in there and drill, I think we could advance that very, very quickly. We picked up another thousand hectares on that project, so things are going there. We've got a team working. We can expect news coming out of that.
Then in Paraguay, again, we flew all our geophysics equipment into the country and then it got shut down. So the geophysics stuff is on the ground ready to go. But what we did do is we managed to get a drill. We started drilling there in late August with a diamond drill. We're drilling ahead of what we normally would have done. So it's a little bit more of a wildcat drilling type stuff. There's over a hundred grams per tonne in some of the samples we've taken: 30 grams per tonne, 40 grams per tonne, multi-ounce samples. So a lot of high-grade visible gold.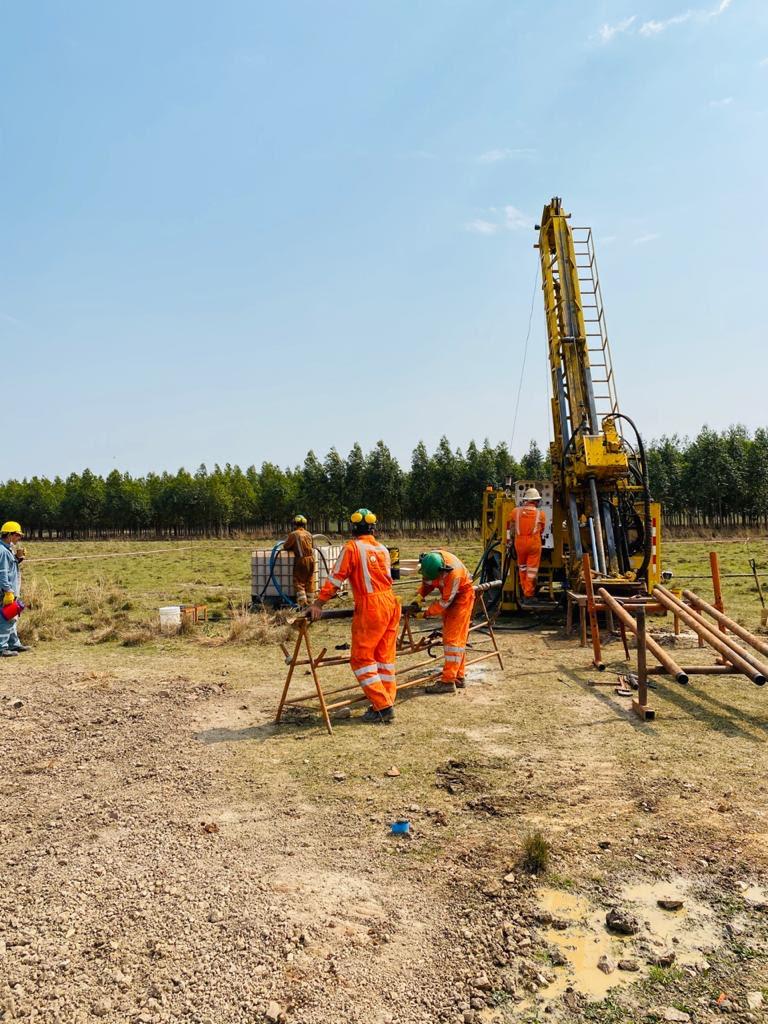 Paraguay is a new frontier and any one of these three projects… any one of these three countries could be a company-maker on its own.
As you mentioned, because of our cash position, we're doing a lot of shopping, kicking a lot of tires. I think we're in really quite a good position right now.

RSD: In Paraguay where you're drilling now, that's a 500-meter diamond drill program initially, correct?
BM: In Paraguay you've got two levels of exploration permits. The first exploration permit is more of a prospecting permit, and you're only allowed to drill 20 meters. So those are 20-meter holes. They're very shallow holes, the stuff right at the surface.
As I mentioned, we would like to do the geophysics before we go after the deep target. We've applied for deeper drilling, but this way we are able to start drilling, get some information out in the market and try to get on this gold wave.

RSD: Again, just to provide context for everyone, you provide good exploration exposure on multiple commodities. Obviously it's gold, it's silver and copper, right?
Brian McEwen: Yes. We're a precious metals based company, but if a good copper project comes along, we're going to go after it.

RSD: Excellent. COVID-19 restrictions aside, let's assume and hope that things continue to trend in a better direction and you're able to get back in the field. Can you walk us through what the rest of the year hopefully will look like in terms of prioritizing the next drill program that could be significant? Of course, we're expecting results from the current program, but walk me through what the rest of the year might look like there.
BM: We've actually put together a budget and a plan for exactly that. Because we're in the financial position we are, we've got full crews. There's not a favorite son in the group here. They all had pretty much the same kind of program where we're doing the surface sampling, the geophysics and drilling. We had planned on drilling all over them before the end of the year.
The reality is we'll be drilling the ones in Paraguay. Hopefully we'll get the permission to drill the deeper holes, so we'll continue to drill in Paraguay. It's unlikely that we'll get to drill in Rio Negro from what they're laying out, but we should be able to be doing some trenching and geophysics.
That'll be the same thing in Chile. We may be drilling in Chile. One of the real advantages of working in Chile is they've got a very advanced infrastructure there and you can get permitting done quickly. There's a lot of equipment around. We could be drilling in Chile by the end of the year as well.

RSD: Well, a lot to like there, Brian. Thank you for the time. I'm looking forward to updates and the rest of the year. I think in the precious metals space and the copper space it should be exciting. You have no shortage of potential catalysts. Anything else that you'd like to add to that?
BM: No. I just think that you started this off talking about being undervalued, and we're working to remedy that. I think that once people start catching on and realize that these projects, even though they're early, they have the chance to advance quickly.
We're dealing with visible gold on both of our gold projects and better than 5% copper on our copper project. This is not moose pasture we're talking about. These things could advance quickly.

RSD: Everybody should go to GoldenArrowResources.com. Click on the investor presentation, pull out a calculator and just do some basic math on the market cap and the cash and equivalents. Then keep in mind that we are in a precious metals bull market that is just getting going.
Brian, thank you for your time today. I appreciate it.
BM: My pleasure. Anytime.
---
The math is pretty simple.
Golden Arrow has 147.5 million fully diluted shares. It has ~C$28 million in cash and equivalents. That means shares are backed by C$0.19 each in cash.
They currently trade right around that price, meaning Golden Arrow is trading at cash value. It is getting no value for any of the three exploration projects discussed in this report. Two of them have visible gold. One of them has 5% copper.
Drills are turning now with additional campaigns expected throughout the end of the year.
Shares are worth a look now as the entry point means any exploration success means nothing but blue sky for the stock!
— Resource Stock Digest Research