US Uranium Boom
Well-Informed Investors Stand to Benefit
---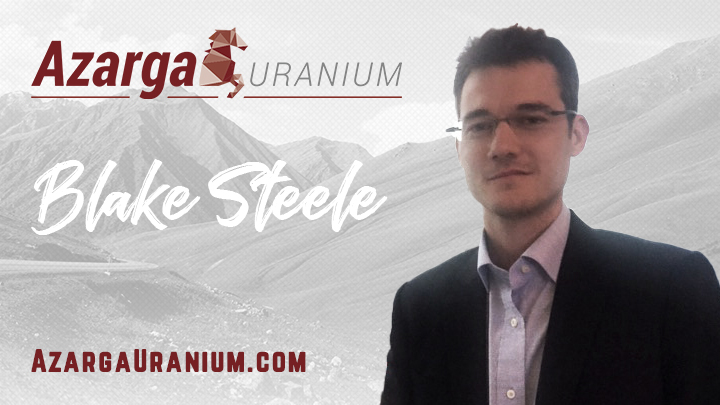 The long-dormant uranium sector is about to spring to life...

Especially in the United States, which operates 95 nuclear reactors but only produces enough uranium for one of them.

The last time this set-up occurred, investors made 10X to 100X their money.

Factors are afoot, explained in detail below, that are setting up the largest energy bull market in years...

As you'll see in the next few minutes, this new uranium bull market will finally allow America to:
Break the stranglehold Russia has on our uranium supply…


Power one in five homes and electric cars with clean, domestic energy…


And create jobs and wealth by developing some of its as-of-yet untapped sources of uranium!
For us as resource stock investors, this forthcoming wave of wealth-building will be driven by a booming uranium price coupled with
owning the right uranium stocks
— which we'll get to shortly.
All Signs Point to a Uranium Stock Boom
The United States is by far the world's largest user of nuclear power with one-in-five American homes relying on nuclear generated power for electricity.

A full two-thirds of America's clean energy consumption is coming from this source.

Despite what you may have heard, nuclear power isn't going away.

Nuclear is currently the world's #1 source of clean energy…BIGGER than solar, wind, and all other renewable energy sources COMBINED.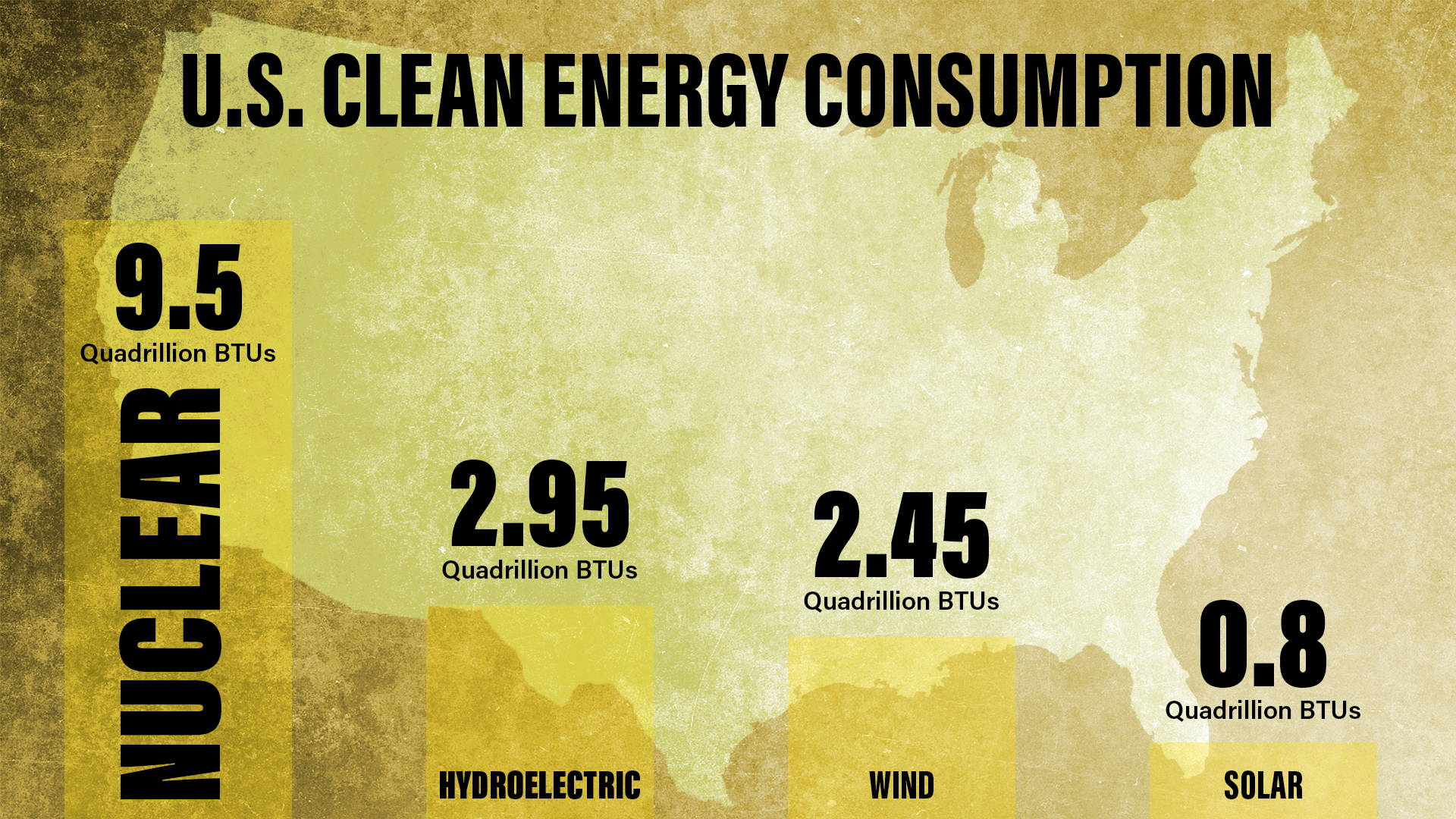 Our planet will continue to require clean nuclear energy as a means of mitigating the global warming effects of greenhouse gas emissions from coal and other carbon-based fuels.

America, quite alarmingly, is almost entirely dependent on foreign imports of uranium. That lies in stark contrast to the early-1980's when our nation's uranium was 100% Made-in-America. Today, with crucial trade barriers removed, less than 5% of our uranium is derived from American sources.


That's all about to change...

America consumes a staggering 50 million pounds of uranium (aka U3O8 or yellowcake) every year. Yet, it only produces around 2 million pounds… less than what it brought to surface back in the mid-1950's.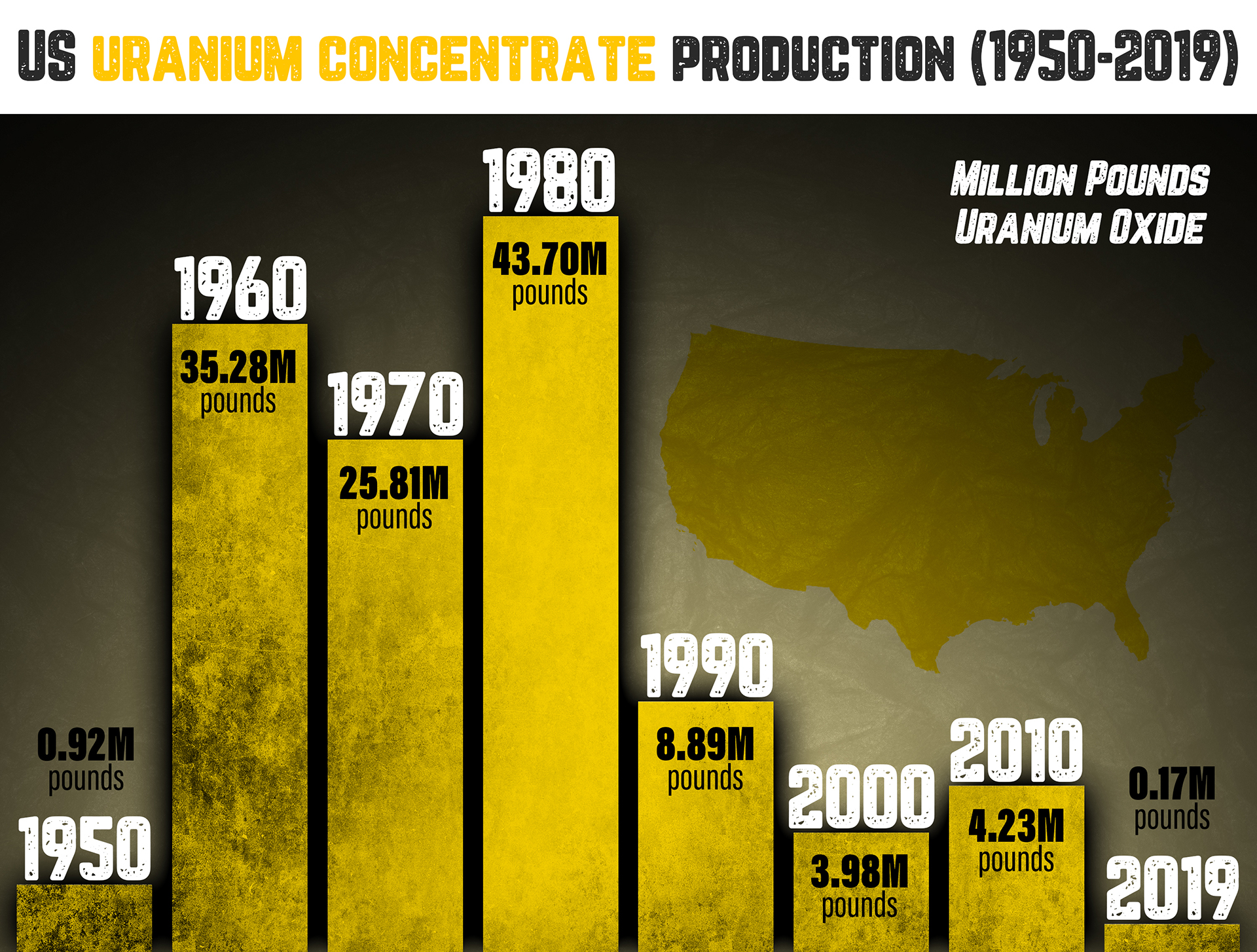 The US has 95 nuclear reactors…yet only produces enough fuel for one!

It should come as little surprise then, that in order to meet its robust demand, America imports a stunning 48 million pounds every year — making it over 95% reliant on foreign uranium sources.

And just WHO are some of America's biggest suppliers?

Russia, of course, and its satellite states of Kazakhstan and Uzbekistan. In total, these nations supply almost HALF of America's U3O8 needs.

The risk to America's national security is clear; drastic change is long overdue.

That's why the US is now creating a national US Uranium Reserve.

In April 2020, the US Nuclear Fuel Working Group released its report detailing a strategy to restore America's nuclear energy leadership.

And this report stated that the US government should take immediate and bold action to revive and strengthen the uranium mining industry.

In November 2020, the Senate Committee on Appropriations' draft fiscal year 2021 funding measures included $150 million for US uranium reserves — part of $1.5 billion requested over 10 years.

Since uranium is already in a deficit position globally, demand from this new reserve could send uranium prices higher.

Plus, COVID-related disruptions have already resulted in an additional 20 million pounds U3O8 being removed from the marketplace — all while annual demand continues to grow.

It now looks like a bottom has been put in as uranium prices rise to US$30 per pound.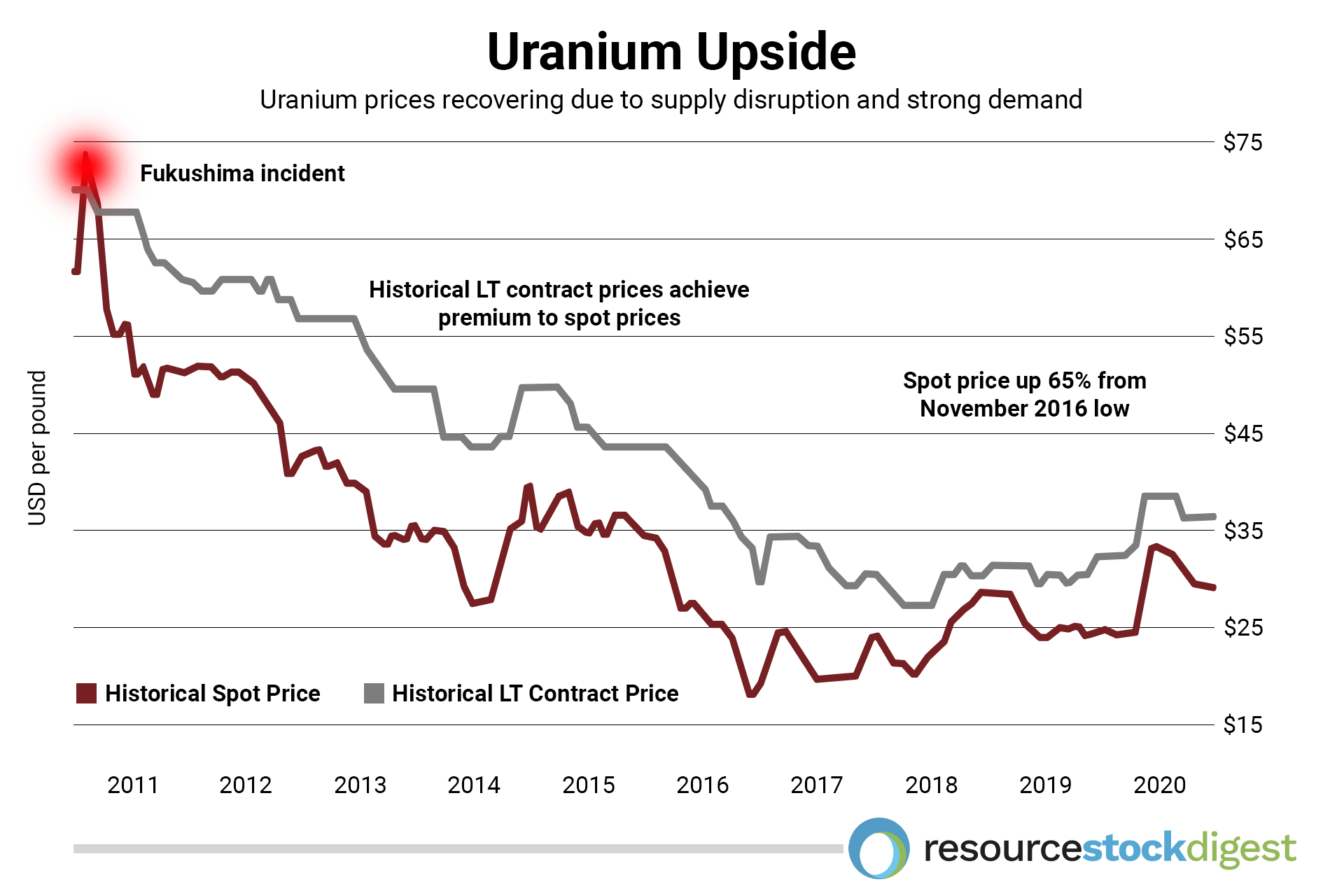 And US utilities will have no issue with paying higher uranium prices!

You see, uranium is incredibly cheap relative to the overall cost of building and operating nuclear power plants. In essence, uranium is a necessity, but only a tiny portion of overall nuclear power costs.

Uranium could literally rocket tenfold…and it still wouldn't have much of a cost impact on overall nuclear power plant operations. Hence, US utilities will have little problem, and, more importantly, zero choice over shelling out $60/lb., $100/lb., or however high uranium rises...as long as the U3O8 keeps flowing.

The case for massive profits from select US uranium stocks is clear...

Nuclear power is the world's largest source of clean energy — greater than all others combined. America's utilities are the world's largest market for U3O8 — utilizing more than a quarter of the world's uranium supply.

As the price of yellowcake surges higher, a small group of uranium-focused companies will have a virtual monopoly on this demand. In a minute, I'll tell you about just one: It controls what VIII Capital uranium analyst David Talbot has called "one of the best undeveloped ISR projects in the US," because of its large size and high grade.
A Clear Path to Uranium Stock Profits
There are several ways for individual investors to participate in the coming uranium boom...from the junior explorers, to the mid-tier producers, all the way to the majors.

I've been paying special attention to the juniors, like Azarga Uranium Corp. (TSX: AZZ)(OTC: AZZUF), because that's where the largest gains can be made in the shortest time frame.

Azarga now controls an astounding 46 million pounds of U3O8. Its flagship Dewey Burdock project has been hailed by leading sector analysts as "one of the best undeveloped ISR projects in the US" because of its high grade.

It was recently granted its final EPA permits for the project, which sent shares from C$0.20 to C$0.30 in a hurry.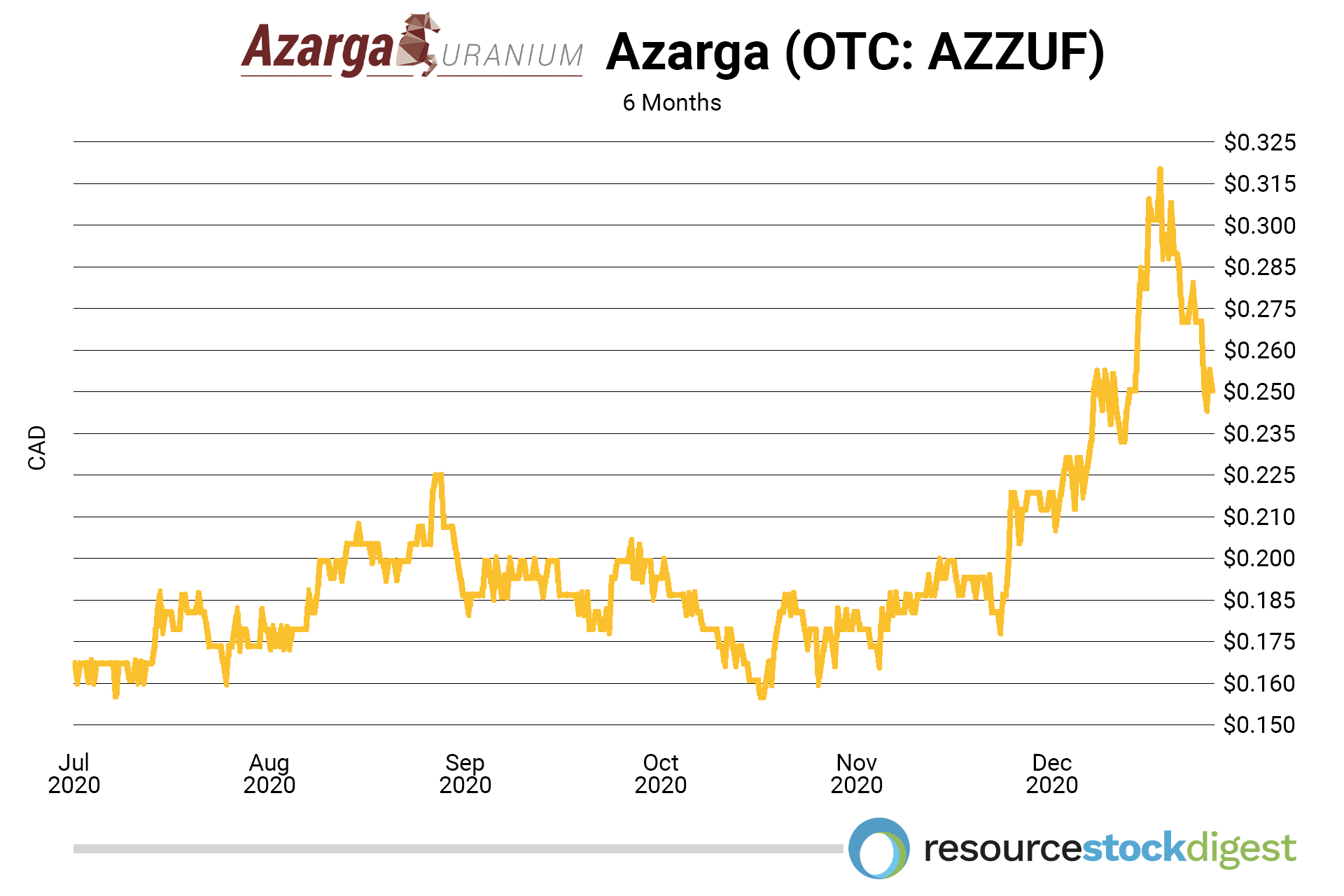 But shares have much further to go for several reasons, which we cover below in our interview with CEO Blake Steele.

Azarga Uranium, which currently trades around C$0.25 per share, has been set up properly from the start. It's all about smart industry people making intelligent property acquisitions and then bringing those projects into production.

What's more... Azarga's shares are held almost entirely by big investors — leaving just a handful of shares liquid for daily trading. With such a tight float, once the broader investment community jumps into uranium – and we're beginning to see the early stages of that now – the ensuing buying could send this miner's shares multiples higher.


Yours In Profits,


Mike Fagan
Editor, Resource Stock Digest
Azarga Uranium (TSX: AZZ)(OTC: AZZUF) CEO, Blake Steele, on Granting of Final EPA Permits for Dewey Burdock Uranium Project — South Dakota, USA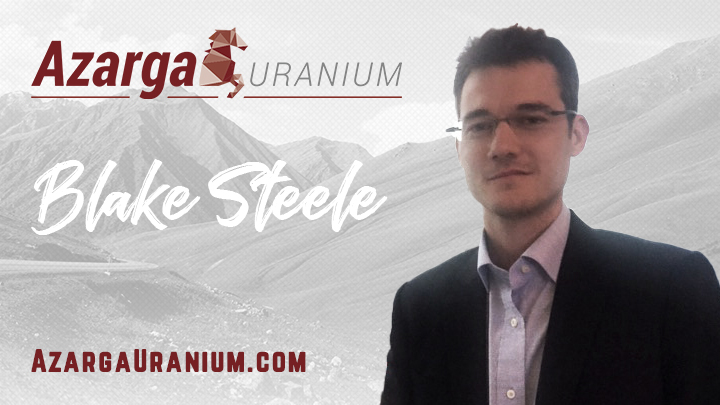 Gerardo Del Real: This is Gerardo Del Real with Resource Stock Digest. Joining me today is the president and CEO of Azarga Uranium — Mr. Blake Steele. Blake, congratulations. How are you?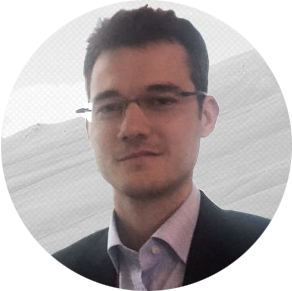 Blake Steele: Thanks, Gerardo. I'm doing great. And how about yourself?
GDR: I am well… thank you so much for asking. I, of course, am congratulating you because Azarga has finally received the final EPA permits for the flagship Dewey Burdock Project. It's obviously a significant milestone for you. How are you feeling about it?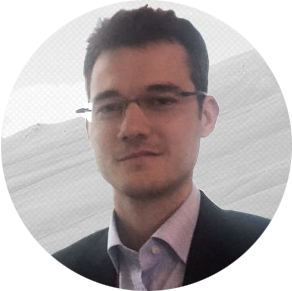 BS: Thanks, Gerardo. You're right. You hit the nail on the head there. This is a huge milestone for our business, and it took over a decade to receive our final underground injection control permits from the EPA.

This gives you an idea of the barriers-to-entry faced in this industry and why this milestone significantly derisks our flagship, low-cost Dewey Burdock Project.

We are the only pure play in-situ recovery (ISR) focused developer in the USA, and we are now substantially closer to becoming the next US uranium producer. In other words, we are very well positioned to take advantage of a market that has not been this fundamentally strong in a decade.

Now, prior to the EPA permits being issued, an extensive review of the project was completed by the agency, and this review reaffirmed the sound technical and environmental aspects of the project.

And I also want to reiterate for your readers that the Dewey Burdock Project has already received its Nuclear Regulatory Commission (NRC) license — the other key federal permit required to move this project into construction.

So with both key federal permits in-hand, we're in a very strong position to finalize the state permitting process. And more importantly, the state permits have actually already been recommended for approval pending completion of board hearings that were previously put on hold until the federal permits were issued.

So in short, we are now focused on finalizing the state permitting process as quickly as possible and moving Dewey Burdock into development.
GDR: You mentioned that this is the flagship, and rightfully so. I believe the project is going to be a project of interest to many producers that would love a permitted project that's low cost, high margin. I have to believe that you're going to get phone calls if you're not already fielding them.

However, with that said, Blake, Azarga is far from a one trick pony. You have a pretty impressive portfolio of projects. I would love for you to provide a brief overview of all of the other initiatives outside of Dewey Burdock. Because there's a lot to like if you believe that 2021 is going to be the year that the uranium bull cycle finally kicks into high gear, right?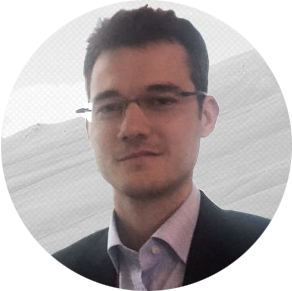 BS: I agree one hundred percent with you, Gerardo. And Dewey Burdock is one of the best undeveloped ISR uranium projects in the United States – but we are focused on developing our pipeline of uranium assets.

In total, we have 40 million pounds of Measured & Indicated (M&I) uranium resources and 6 million pounds of Inferred uranium resources — all located in the United States.

At our Gas Hills Project in Wyoming, we have completed multiple hydrological studies that indicate conditions are suitable for ISR mining on the majority of the current resource estimate. Also, earlier in the year, you may recall that we identified significant uranium mineralization not included in the current resource estimate that indicates widespread potential to increase the existing resource.

Most importantly, this additional mineralization is located below the water table in sandstone hosted roll fronts — meaning it has the potential to be ISR amenable.

So… where are we at?

We are currently updating our resource estimate for Gas Hills, and that resource estimate will incorporate this additional mineralization. We're very excited with the progress that we're making at Gas Hills and its potential to become a significant ISR satellite project to Dewey Burdock.

And at Dewey Terrace, which is directly adjacent to Dewey Burdock on the Wyoming side of the border, we've also identified significant uranium mineralization. Again, we're continuing the review of the historical dataset that we acquired there with the goal of further identifying uranium mineralization and quantifying a maiden resource estimate at Dewey Terrace.

So in short, Gerardo — we expect 2021 to be a very exciting year for us.
GDR: Absolutely. Let's talk 2021. Many of the smartest minds in the space have called for a uranium bull market for the past four or five, six years. I thought I was smart by calling for it in 2020. I was wrong. But the bottom line is this… look, we know that uranium bull markets are extremely profitable. And one of the reasons is there's just not that many quality companies and assets out there.

Azarga has got a very impressive suite of projects. If 2021 plays out the way I thought 2020 would — obviously you're headed much higher. What's your take on the uranium space? Is 2021 going to be the year, Blake? Everything seems like it's lined up.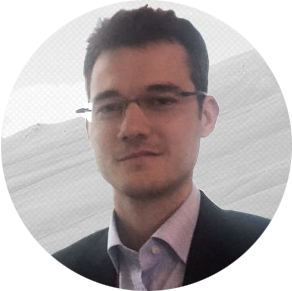 BS: Yeah, look… it's been a bit of a slow burn. But globally right now, the supply and demand fundamentals of the uranium market are stronger than they have been in a decade and continue to improve.

Unsustainably low uranium prices have forced mine supply to be cut back, capital investment to be reduced and deferred, and new projects to be postponed — resulting in reduced inventories all when annual demand is growing.

Further, COVID-19 has resulted in an additional 20 million pounds of uranium production being removed in 2020. These pounds can not be made up.

Though uranium prices have recovered from their lows, we do believe this is just the beginning. The uranium market is in a deficit position, which requires new production to come online, and a much higher uranium incentive price is needed for that new production.

So looking at the US specifically, the government has taken significant steps to support the uranium and nuclear industries. In April 2020, the US Nuclear Fuel Working Group released its report detailing a strategy to restore America's nuclear energy leadership.

And this report stated that the US government should take immediate and bold action to revive and strengthen the uranium mining industry. And in November 2020, the Senate Committee on Appropriations draft fiscal year 2021 funding measures included $150 million for US uranium reserves — part of $1.5 billion requested over 10 years.

Earlier in the year – you've probably seen all of this as well – the US government amended the Russian suspension agreement, extending it to 2040, and reducing imports of uranium from Russia. And possibly, most significantly, lastly, for the first time in 48 years – the Democratic Party platform supports nuclear… and we have bipartisan support for nuclear energy in the USA.

All of these are absolutely crucial drivers for a US uranium renaissance.

Now, while the support of the US government provides significant benefits, Gerardo, I want to emphasize that our Dewey Burdock Project is already economically robust and internationally competitive.

And just to reiterate again for your readers, the project has lowest-quartile Life of Mine C1 cash cost of $10.46 per pound and only requires $31.7 million of capital to get into initial production.

At $55 uranium, the project has an NPV of $171 million and an IRR of 55%. Even at $40 uranium, the project has an IRR of 28%. So I think that's something that's very special and unique and further sets Dewey apart from its peers.
GDR: A lot to like, Blake. Well put. Is there anything else that you'd like to add?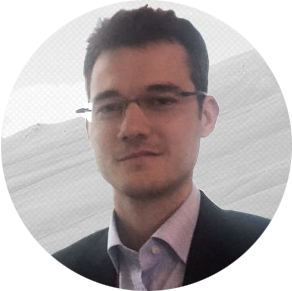 BS: No, I think that sums it up in a nutshell there for everybody.
GDR: Agreed. Well, thanks again for your time. And again, congratulations. Well deserved!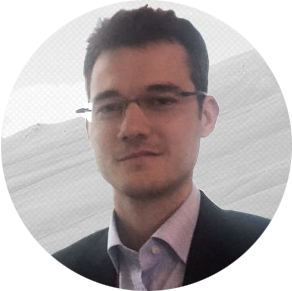 BS: Thanks very much. Much appreciated, Gerardo, and appreciate your time as always.
Azarga's Flagship Dewey Burdock Project
17.8 million pounds U3O8
The Azarga team controls one of the largest, highest-grade ISR (in-situ recovery) uranium projects in the United States.

ISR is the preferred uranium recovery methodology in the United States. ISR requires less of a mining footprint; therefore, fewer environmental concerns, lower costs, and in many cases fewer permitting requirements.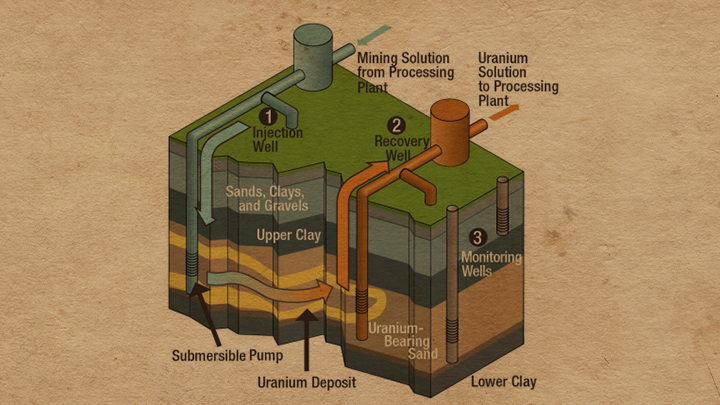 The Azarga team knows the ins-and-outs of the North American uranium industry… they know precisely where the best properties are… and they're experienced at navigating an oftentimes arduous permitting process.

While other less experienced miners languish in this hoops-to-jump-though quagmire of red tape with share-prices going nowhere, the Azarga team is in the final stretch of the process at Dewey Burdock having now reslolvedthe final contention.

Based on that wealth of industry experience, Azarga now controls no less than 10 high-potential uranium properties at varying stages of development in the key producing states of South Dakota, Wyoming, Colorado, and Utah.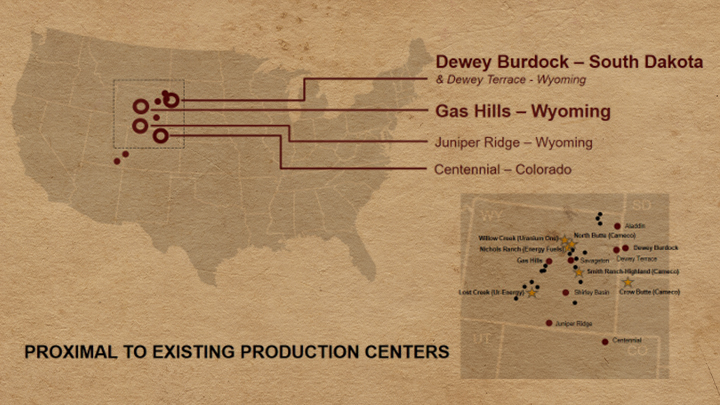 Flagship Property: Dewey Burdock Project

Azarga's flagship Dewey Burdock property is situated in the prolific Edgemont Uranium District of South Dakota.

Spanning 16,960 net mineral acres (26.5 sq mi), Dewey Burdock (yellow, below) boasts measured and indicated reserves of 17.8 million pounds U3O8 at an average grade of 0.113% — making it one of the highest potential ISR uranium projects in the United States. asset base.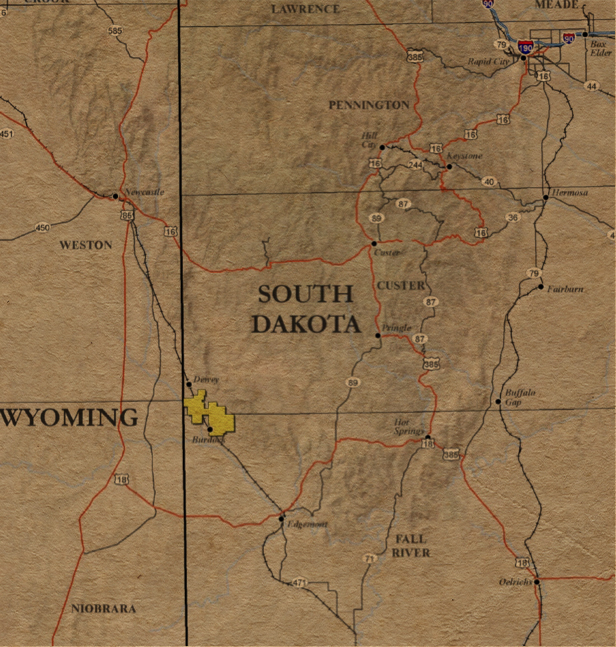 Think about this: At current US production rates of less than 2 million pounds U3O8 per annum, Azarga could potentially deliver that same level of U3O8 production from Dewey Burdock's 17.8 million pound resource alone — for 7-plus years!

Dewey Burdock is also so vast and so rich with U3O8, the Azarga field team could potentially uncover multiple new discovery areas in the next exploration phase — adding precious pounds to its already impressive total.

Needless to say, the potential here is undeniable in terms of Azarga's impending rise to key-player-status in North America's clean energy space.

Commanding your immediate investment attention, Azarga stands alone as an exceptionally well-run junior explorer with an impressive US uranium asset base.
The Smart Way to Invest in Azarga Uranium AZZ
Timing is everything.

Thus, it's important to establish your strategic position in Azarga Uranium before it moves up from the current C$0.30 level.

Keep in mind that your buying should commence only after completing your own due diligence on the company. This should include visiting the Azarga Uranium website at and reading the company's press releases, filings, and financials along with signing up to receive news from the company.

Starting your strategic position in AZZ at current price levels around C$0.30 per share is the only way to ensure you're in for maximum upside.

Azarga trades on the Toronto Stock Exchange under the symbol AZZ and on the US OTC Bulletin Board Exchange under the symbol AZZUF.

Click here to learn more about Azarga at its website.
— Resource Stock Digest Research